I don't know about you, but I sometimes have a hard time deciding what to wear every single day.  Yes, I do wear my black yoga pants most days of the week, but when I want to get out of that mama rut, I want to throw on something cute! So I made a list of closet must-haves that I thought were really versatile and can be thrown on to look more put together.
1. Chambray Blouse.  Holy smokes! This top is my new favorite! It seriously goes with EVERYTHING! And it's super comfy!
2. Dark Wash Skinny Jeans. I really like to wear these with flats or boots.  They are my go to jean and I love to wear them with a loose or flowy shirts, because you want to balance out your outfit.  You don't want to wear skinny jeans with a tight or fitted top.  You want your top to hit at the top of your thighs.  And the dark wash will also make your legs appear longer and slimmer.
3. Colored Skinny Jeans.  I love this trend! Colored jeans can go with any look and I think that anybody can pull them off, you just have to find the right color for you.  If this trend scares you a bit, try going with a royal blue or navy colored jean and see how you like it.  I would also recommend that you don't wear any pastel colored jean, just because it make your legs appear rounder or fuller.  When in doubt, go with a jewel toned jean, emerald green, plum or royal blue.
4.  Blazers! They seriously can put an outfit together and can make your look more tailored.  I know when I put on my black or navy blazer that it makes my hips and waist appear smaller, always a plus!! AND they come in a lot of fun colors!
5. A Pencil Skirt.  These skirts are very versatile and can be worn many ways! I think that this skirt flatters every body shape.  Since Spring is almost here, a lot of companies are making different colored pencil skirts or pattered pencil skirts! So fun!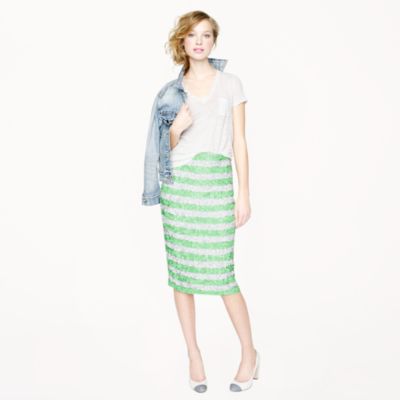 6. A Little Black Dress.  Now this dress is VERY verstatile.  Can be worn with heels, flats, cowboy boots, or whatever! Dress it up or down with accessories! Wear it with a jean jacket, or a cardigan.  The possibilities are endless!
7. Cardigans.  What can I say? They are adorable! And they are great for layering.
8. Maxi Skirt or Dress.  These are so comfy and an easy go-to item.  Can be worn with anything and so fun to wear in the summer! And I like to wear a maxi skirt with a chambray top!
9. A Perfect White V-Neck Tee.  So easy to throw on and can obviously be worn with anything! See above picture.
10.  The Perfect Statement Necklace.  The trend this spring are flower statement necklaces.  These can be worn with a tee-shirt and jeans and can easily dress up anything and can make you feel more put together.
What are some of the staple items in your closet??
All the pictures I used in this post I found on google.com