I was motivated by a group I am in to get some planting done. I'm hoping this gives me a head start so I can get on to some vegetable and other flower gardening I need to do. Each month this group finds something from a thrift store, garage sale or resale store to refurbish and give it a new use. To see what it's all about read below. I just know you're going to be inspired by all the beautiful projects. You will also see how I used some cool vintage items to create my planters.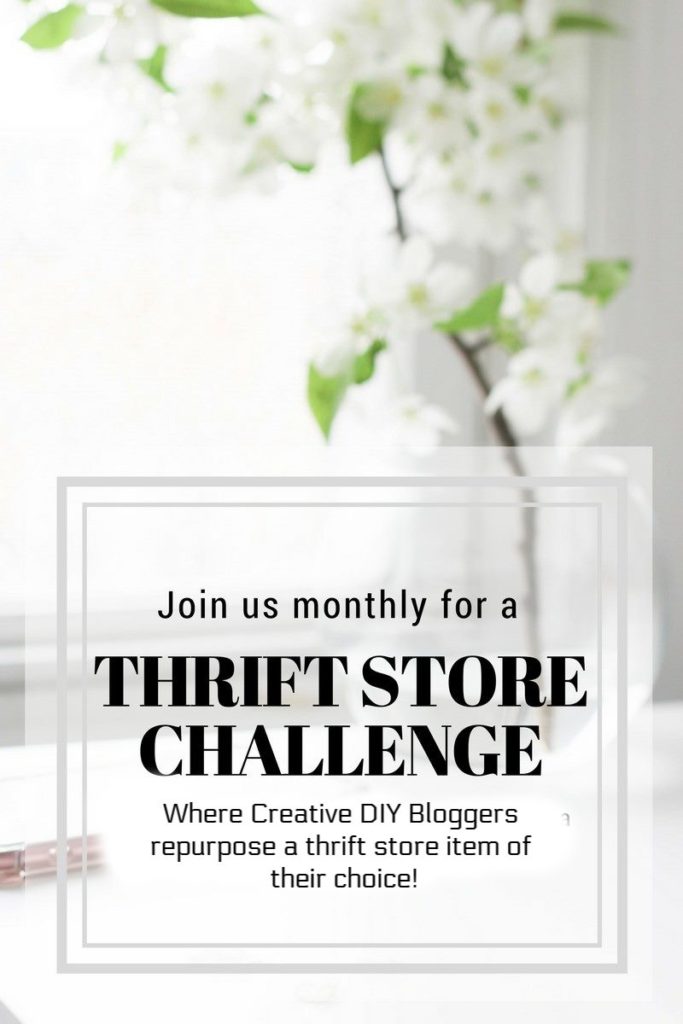 The Rules:
Upcycle an item(s) from a thrift store, resale store, or garage sale into a new piece of decor.
There's no monthly theme.
There's no budget to stick to.
Meet the Hosts
Angela | Simply Beautiful By Angela – Gail | Purple Hues and Me – Marci | Stone Cottage Adventures – Dru | Polka Dot Poplars – Beverly | Across the Blvd – Melynda | Scratch Made Food! & DIY Homemade Household
Our Thrift Store Upcycle group of bloggers is always looking to expand — and we need your help! Why not consider joining in our thrift store upcycle challenge on the last Thursday of each month? Make some friends while having fun and share your love of DIY with the world. It's a win-win! Sound like something you'd be interested in? Just leave a comment at the end of this post with your contact info and a link to your blog. Someone will get back to you right away. We can't wait to meet you!
As I was looking around the thrift store I found a vintage colander and a cute little creamer. The colander immediately inspired me to create a planter. It has holes for watering and drainage and was just the right size for a tabletop planter I can put on my patio table.
The cute little creamer, I knew, would be so cute planted with some little violets. I kept looking for something more middle-sized to create a trio and the sweet blue bowl was perfect, but needed to be a bit taller so it wasn't lost in the grouping. I had a glass candlestick at home that I decided would be just what was needed. I glued it on the bottom of the bowl with E-6000.
I purchased some flowers, dirt and some drainage rocks and got busy.
Watering pots and planters is best done by setting the pot down in a sink or tub of water. That way the roots of the plants can soak up the water they need. But, if you use containers that don't have drain holes it's perfectly ok to water them from above.
On a side note…If you plant in something that has large holes in the bottom or you're worried about the dirt draining out line your container with some plastic. I don't need to do that here because the holes are so small, but this image shows what can be done. You will also need to poke some small holes in the plastic so the water can drain.
Another option is a moss liner that can be set in the container to keep the planter from drying out too quickly. Rocks can also keep the roots from sitting in the pooling water at the bottom. Rocks were so important to put into my two smaller containers to help with keeping stagnant water away from the roots. I will only want to water these pots lightly. Too much water in a pot without holes is deadly for the plants.
Now all you got to do is add a bit of dirt and start planting your flowers. I like to use a variety of heights to create a pleasing image for those looking at it. If your pot is going to be seen from all sides you will want to turn the pot and make sure everything looks even.
Isn't this creamer so sweet.
Now for a little watering and they are all set to be enjoyed. Here's how I set the colander in a bucket of water and it sucked up the water. I had to let it drain in a sink before setting it out on a table.
I love how they turned out. And the fun thing about pots is that they can be replanted over and over when the old flowers are no longer blooming. A big plus is being able to plant the bulbs and perennials you put in your pots into your garden for next year.
And now for more thrifty goodness!
Check out what my fellow upcyclers created below!
<